When it comes to figuring out which nude lipstick works best for you, the struggle is REAL! I have extremely pale skin. I don't sunbathe and even if I tried, my skin tone doesn't change at all. Since I'm pale as white marshmallows in the sky, nude lipsticks look dark brown on me. Nude lipsticks give off a natural colour that is unnoticeable unless you focus. I have been wearing nude lipsticks for years now and I only recently found the perfect nude colours that go with my skin tone. Obviously, the ones I found don't only go with light skin tones; they go perfect with every shade in the book. I think it would only be fair to share these 5 lipstick shades that I guarantee you will match perfectly with your skin tone.
Huda Beauty lipstick in shade Power Bullet Matte Lipstick in Joyride
Huda has put in the effort to make this lipstick shade that works with all skin tones. Not only has she made more shades for people with different undertones (either pink or bronze), the lipstick is also matte, which makes it look more natural-looking. The price is decent if you are looking to use this not so often (but also have it in your purse wherever you go).
DIOR Rouge Dior Lipstick

Not only my favourite high-end brand for absolutely everything, but now one of my favourite nude lipstick provider! I do have to admit this lipstick has a sheer finish but just the better because that means you can wear it out on fancy occasions. Something I love about it is that you can wear this lipstick when you go all out with your eyeshadow and want to keep it on the low with your lipstick. Although the price is a little high, it's definitely worth the spend!
URBAN DECAY Vice Lipstick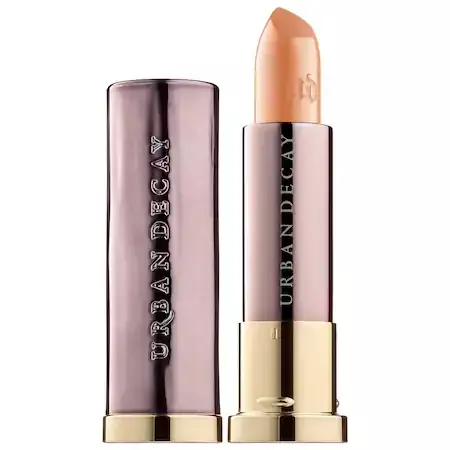 Ladies and gents, I introduce to you only the best of the best nude lipsticks. This one here also has a lip liner under the same name so you can pair that along with the lipstick. It's a peachy shade and compliments all skin tones! The price is extremely reasonable.
FENTY BEAUTY Slip Shine Sheer Shiny Lipstick
This nude lipstick has been slept on lately. I used it in front of my friend and she was so confused as to what brand it is from. I passed it to her in the powder room and let's just say she bought one for herself and hasn't used another brand since. Although it is extremely sheer, it's lightweight and shiny. The price is eye-catching; this lipstick is worth a shot!
Colour Sensational Lipstick in Nude Lust Maybelline New York

This 15 DHS lipstick is by far the best drug-store product I have ever laid hands on! The formula is breath-taking and lasts for hours. The colour is super rich and goes on every skin tone perfectly.