"Take a good book to bed with you, books don't snore." Books are known to be the most priceless belongings that one possesses. A Reader is always thirsty for knowledge and books tend to quench their thirst. Reading a book before going to bed is like meditating to calm and relax your body. Reading is the best treatment one can receive. During the night either you are depressed, anxious, or struggling to sleep all you need is a good read that will take your mind off all the hassle and allow you to dilute yourself in the world of equanimity and contentment.
Of course, you are to seek professional advice if struggling with mental disorders and experiencing feelings of depression and anxiety, but books are just like your voracious companion in solitary. A book can be as soothing as a sweet syrup or can be as aggravating as sour vinegar. You want to read a book where you can lose yourself in the fictional world and just enjoy the reading process and not getting irritated by a difficult and unclear book, the following list of books will ensure that whatever it is that you are going through, you are not alone, whatever being said the truth is Life is nothing but a big exciting and valorous story.
Attachments by Rainbow Rowell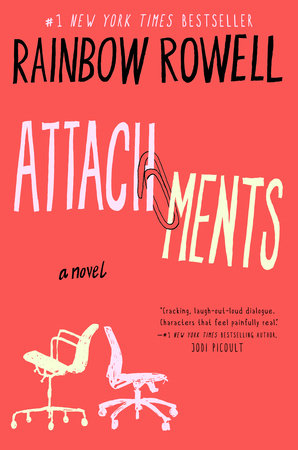 This book is a contemporary romance novel that talks about how Beth and Jennifer exchange emails with each other sharing their thoughts and stories which is monitored by Lincoln the internet security officer, who finds himself falling in love with Beth.
This book is an easy read, it's all about romance and drama which allows your imagination to run wild and let you into the world of fiction and romance, it allows you to fantasize and dream about beautiful worldly pleasures.
Persuasion by Jane Austen
Persuasion is a story of a second chance to reunite, it calls upon the destiny and fate of two people who meet after 8 years and reunite with each other. The book is all about first love, teen romance, and fantasy.
It is about when Anne fell in love with Wentworth a naval captain who had no fortune which led Anne to give up her love for him, 8 years later Wentworth comes back to the neighborhood as a rich man. This book takes you into the world of fantasy and lets you concoct your own story. It's like the dream of every woman coming true.
You are a Bad-Ass by Jen Sincero
There is a misconception about self-help books as they are always tagged as corny and cliché or having everything listed in bullets but you are wrong about this one. This book challenges the idea for someday and encourages the reader to live their best life now. The book lays more importance on the present than on the future and sparks the light of courage and savor every moment.
The Wedding Night by Sophie Kinsella
This book is funny and hilarious as it takes you through the ups and downs of marrying someone in a hurry and also gives you a tinge of experience in romance and believing in love. The book is fun fast and farcical. It is such an amazing read as it will make you laugh and refresh your sunken mood from all the day's work. It is also about how the characters lie to get out of one situation just to find another one waiting and get caught up in the vicious circle of hilarious romance.
Just Listen by Sarah Dessen
Usually, Sarah Dessen's books are a very easy read and involve a lot of heart-warming content like adolescent love, family ties, relationships, secrets. Just listen is all about finding the missing piece of the puzzle, a confidant. A certain someone who can just listen to our stories, our worries, and the issues that we don't usually talk about a lot. It gives you a sense of comfort to talk out the issues that bother you the most. This book talks about that certain someone and how it gives peace to you through music. I f you are looking to put your thoughts aside and just listen to the character's story this will be a great read for you.
Lastly, I would like to say a book is a gift that one can open again, but never get bored of it. A good read and a good sleep always go hand in hand so always read something before going to bed as it relaxes your soul and gives you time to heal from your struggles and battles that you might be fighting. Reading a book should never be stress but a peaceful journey through the book helps you grow in yourself.