With officially two weeks left for Halloween, we know by now who the lazy bums are.
Amidst all the fun of planning parties and discussing costumes, some of us perhaps indulged a bit too much in the planning process, without sparing a thought about our own costumes. Or we got carried away with all the gorgeous Fall décor and didn't get to thinking about Halloween.
Come crunch-time and that's when things get real. What are you going to go dressed as?
Here are 7 cool and easy last-minute Halloween costume ideas for 2023. You can put these together with crafty accessories pulled out from your closet, or order their readymade versions online.
Barbie and Ken
We know for sure that this year, Halloween will bring out lots of Barbies and Kens. It is the easiest and most relevant costume this Fall, and it also inspires more than one way to dress up. From neon roller-blading Barbie to cowgirl Barbie to stereotypical Barbie, to even weird Barbie, there are a myriad of options to try in the realm of Barbie and Ken costumes.
For stereotypical Barbie, all you need to do is, grab a gingham pink A-line dress from the store and match it with pink heels and a pink bag. A blonde wig will also help if you're not already blonde. For Ken, of course, all you need to do is look "beach". Grab a pair of vintage striped shorts, and an open shirt, and hold a beach ball.
If you wish to go for roller-blading or cowgirl Barbie looks, Etsy has some of the best readymade costumes that you can simply buy and call it a day.
And for weird Barbie, bring out that dead hot pink baby doll dress from the 90s in your closet and put on graphic makeup.
Tinkerbell
Tinkerbell is evergreen and iridescent green. Yet another easy costume you can put together, once you've managed to secure the prettiest pair of wings. You can buy them on Etsy or Amazon for fairly good rates. For the rest of the costume, wear a pretty green mini dress, use a claw clip for her signature updo, and nude pumps to finish. If you want to take it one step further, buy shimmer stockings and add facial glitter.
Wednesday Adams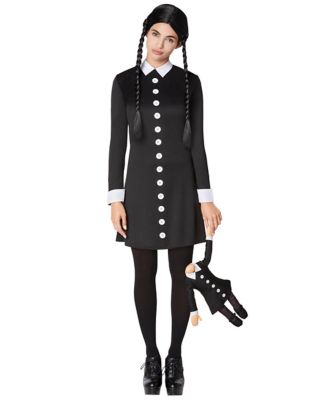 Before we caught Barbie fever, we had Wednesday fever. Needless to say, it is perhaps one of the easiest looks for introverts in particular. Since it's an all-black look, all you need to do is grab all the black outfits and accessories from your wardrobe and put together a look. It could be a dress, a skirt, pants, a jumpsuit, or even a teddy with thigh-high hosiery. Wear the darkest shade of brown lipstick or black if you have one to complete the look.
If you want an authentic Wednesday look, Etsy and Amazon have the perfect Wednesday Adams dress from the ball at Nevermore.
Alternatively, if you need hotter versions of the character, FashionNova has some cool Wednesday-inspired costume sets you can try. Some even come with a brunette wig.
Fairly Odd Parents
Cosmo and Wanda are super easy to pull off, because of their strong focus on colors. You can easily purchase neon green and pink wigs on Etsy or Amazon. Fairly Odd Parents sets are also available online, they come with wands too.
Alternatively, you can easily whip up the costumes at home with a temporary hair color spray, some craft paper, and glue for the wand. The outfits are best kept neutral, as they don't really matter as long you get the hair right. You can also try and match your outfit color with your wand or crown color.
Euphoria
Euphoria costumes never get old. They are so iconic that the entire cast has created history for being so bold, raw, real, and beautifully chaotic.
You can easily dress up as your favorite character from Euphoria by putting together pretty much any glam outfit from your wardrobe. It could be a sexy corset top and flared pants, an embellished mini skirt and crop top, or a pretty dress. The makeup is what pulls the whole look together. Use shimmery shadow, rhinestones, chrome polish, bright lips, and all things glam.
If you wish to keep it authentic, you can do your makeup with products from Half Magic – the brainchild of the show's makeup artist Donni Davy. It is a vegan and cruelty-free brand, and it comes with all the products that will help you nail every Euphoria look.
Pretty Woman
Who can forget the timeless looks of Vivian Ward from Pretty Woman?
The character's most famously remembered look is the ultra-short mini dress paired with a blonde bob wig. You can purchase the entire look, along with the blonde wig and dog-tag necklace from Etsy or FashionNova. Style the look with thigh-high black boots, and wear bright red lipstick as well.
Creepy Clown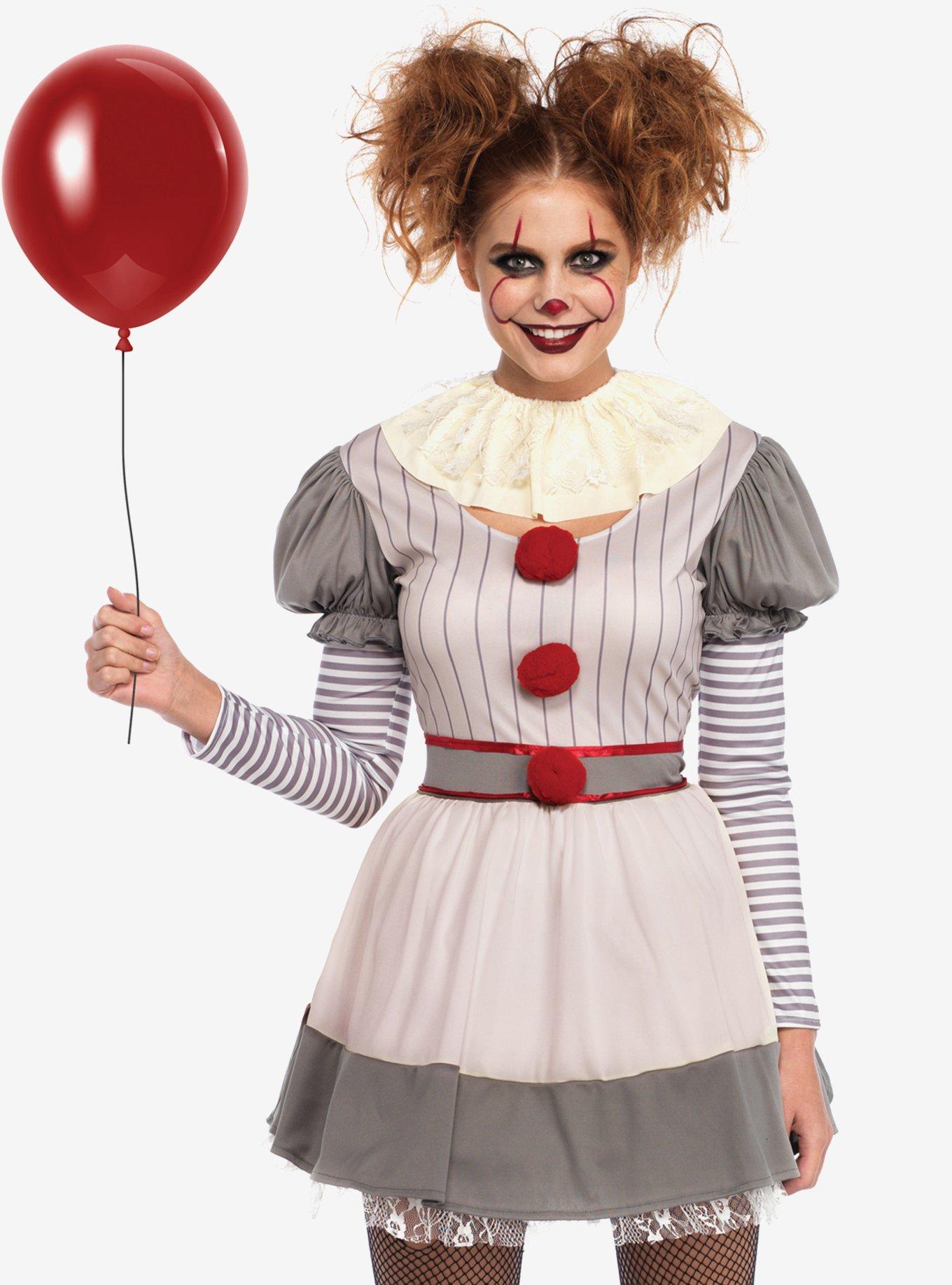 Halloween wouldn't be complete without a creepy clown, would it?

It is perhaps the most easily available Halloween costume online or in any costume shop. You can choose from a multitude of versions and styles in clown costumes. Starting from sexy clowns to scary clowns, and funny clowns, you will get any look on Amazon, Etsy, or FashionNova. Complete the look with simple clown makeup; bright red lips, exaggerated winged liner with a dripping effect on the lower lash line, and exaggerated blush. You can also follow simple tutorials online if you are willing to put in a little more effort.
Bhagya Lakshmi
I'm a fashion designer, content creator, writer, and a strong advocate of body positivity. I love animals, books, rose gold jewellery, putting together minimal OOTDs, and purpose-driven writing.