Brahmāstra is all set to release on September 09, 2022. The film stars Amitabh Bachchan, Ranbir Kapoor, and Alia Bhatt in lead roles, along with Mouni Roy and Nagarjuna Akkineni, and is directed by Ayan Mukherji.
After sharing his Vision and the Beginnings of this journey, Director Ayan Mukerji is here with the inspirations behind Brahmāstra.
Link: BRAHMĀSTRA – Inspirations (ENGLISH)| Amitabh | Ranbir | Alia | Nagarjuna | Ayan | In Cinemas Sept 9
In the featurette, director Ayan Mukherji says, "As a teenager, I was very excited by certain fantasy series from the Western world, then as a young filmmaker I was always observing closely how Hollywood was regularly using technology to bring their storytelling alive as blockbuster cinema, and so all these inspirations that were built up within me came bubbling up in a form of Brahmāstra.
He further adds, "the movie I was creating in my imagination had colors of everything I had absorbed, but somehow it all mixed together to create a new and very original color… hence, it makes me very proud that Brahmāstra is a very original film".
Dance Anthem of the Year 'Dance Ka Bhoot'
After the massive global chartbusters Kesariya and Deva Deva, Dance Ka Bhoot is the "Celebration of Brahmāstra"!
This Festive Season jhoom with the Dance Anthem of the Year 'Dance Ka Bhoot' from Brahmāstra! – The teaser has been released on YouTube and has been viewed more than 1 million times already.
Ranbir Kapoor is all set to steal hearts with his DHINCHAAK moves in the foot-tapping Dance Ka Bhoot teaser from Brahmāstra Part One: Shiva.
Link: Dance Ka Bhoot | Official Video Teaser | Ranbir Kapoor, Alia Bhatt | Pritam, Amitabh, Arijit SIngh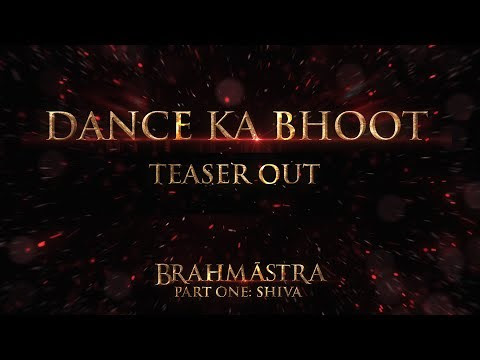 Composed by Pritam and sung by Arijit Singh, lyrics are by Amitabh Bhattacharya.
Produced by Star Studios, Dharma Productions, Prime Focus, and Starlight Pictures, the magnum opus will release theatrically on 09.09.2022 across 5 Indian languages – Hindi, Tamil, Telugu, Malayalam, and Kannada with a stellar ensemble cast of Amitabh Bachchan, Ranbir Kapoor, Alia Bhatt, Mouni Roy, and Nagarjuna Akkineni.