With reports that the Premier League could ban gambling sponsors on football shirts and regular conversations about the ban ongoing, what if shirts were sponsored by a team's local food and drink brands instead?
The team at betting.com looked at various British football teams that have famous food and drink brands that were founded locally, and designed some eye-catching alternate football shirts inspired by those brands.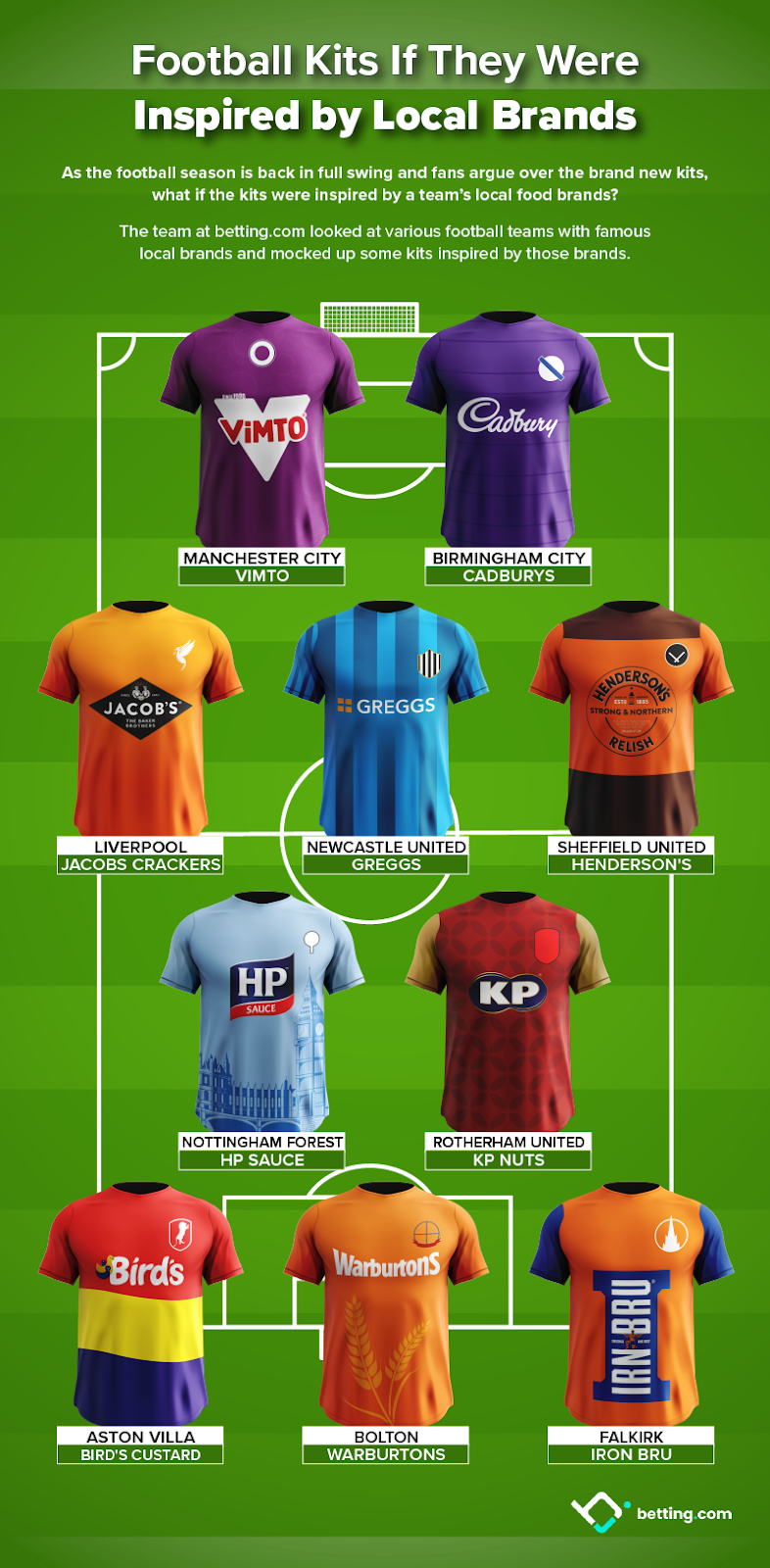 Manchester City – Vimto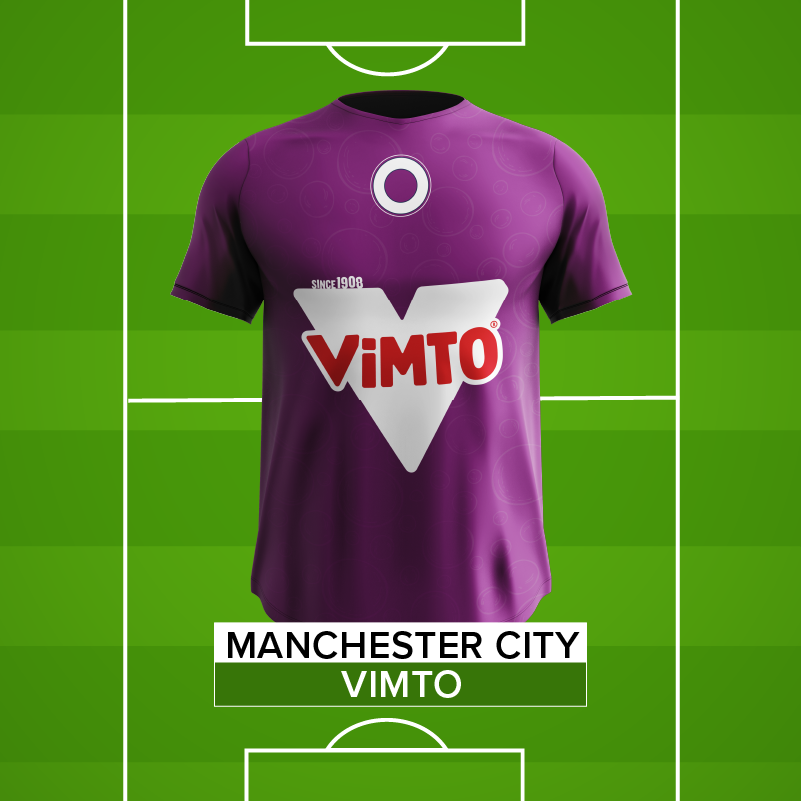 The first betting.com design is the Manchester City Vimto kit. Created in Manchester by herbs and spices wholesaler John Noel Nichols in 1908, it was originally called Vim-Tonic before he shortened the name to Vimto in 1912.
This eye-catching purple design with subtle bubbles across the shirt would certainly make the team stand-out on the pitch.
Birmingham City – Cadburys
The iconic chocolate brand Cadbury was founded way back in 1824 by a Quaker named John Cadbury. Founded in Birmingham, the brand began as a drinking chocolate brand until 1847 when Cadbury competitor Fry's invented the first chocolate bar. In 1849, Cadbury released the iconic bar which we all know and love today as a response to Fry's.
Therefore, it's only right that Birmingham City should don a Cadbury's shirt in the brand's appetising dark purple colour.
Liverpool – Jacobs Crackers
Whilst Jacob's was originally founded in Ireland, the first factory in England opened in Liverpool in 1914. Shortly after, the Liverpool factory separated from the Irish business and became its own Limited Company, which led to the brand becoming the iconic staple to pair with a cheese of your choice.
The eye-catching orange shirt might send fans crackers. Maybe Jacob's crackers and cheese should be the next concourse snack at Anfield?
Newcastle United – Greggs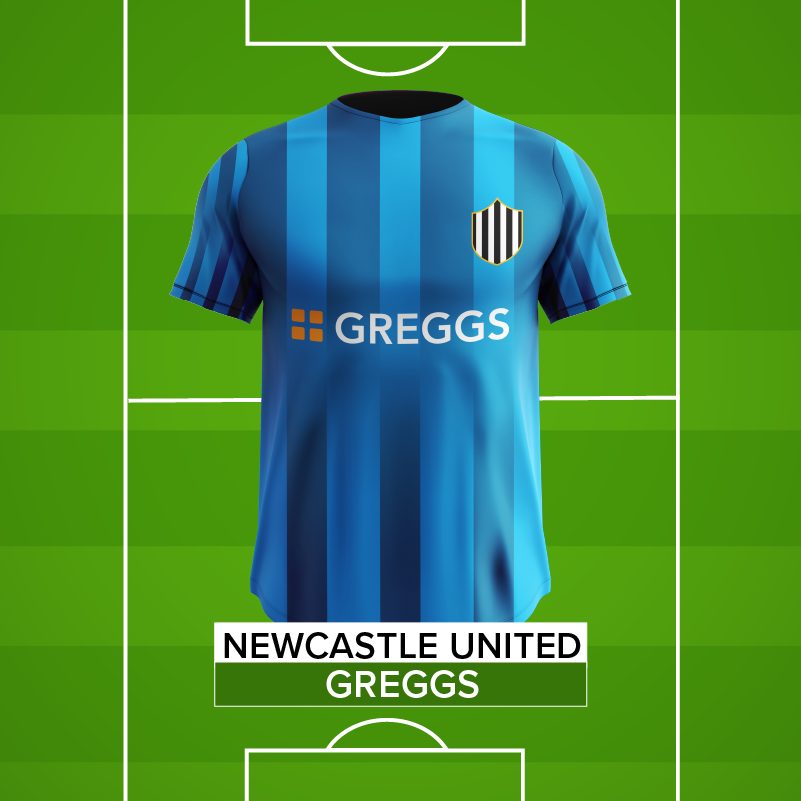 John Gregg founded the Tyneside bakery in 1939, and in 1951, the very first Greggs shop was opened in Gosforth, Newcastle which grew to be the iconic food-on-the-go chain it is today with over 2000 stores nationwide specialising in savoury snacks and sandwiches.
It's only right that Newcastle United pride themselves on being the home of Greggs with this lovely alternate shirt in Greggs blue, yet keeping their iconic striped design.
Sheffield United – Henderson's Relish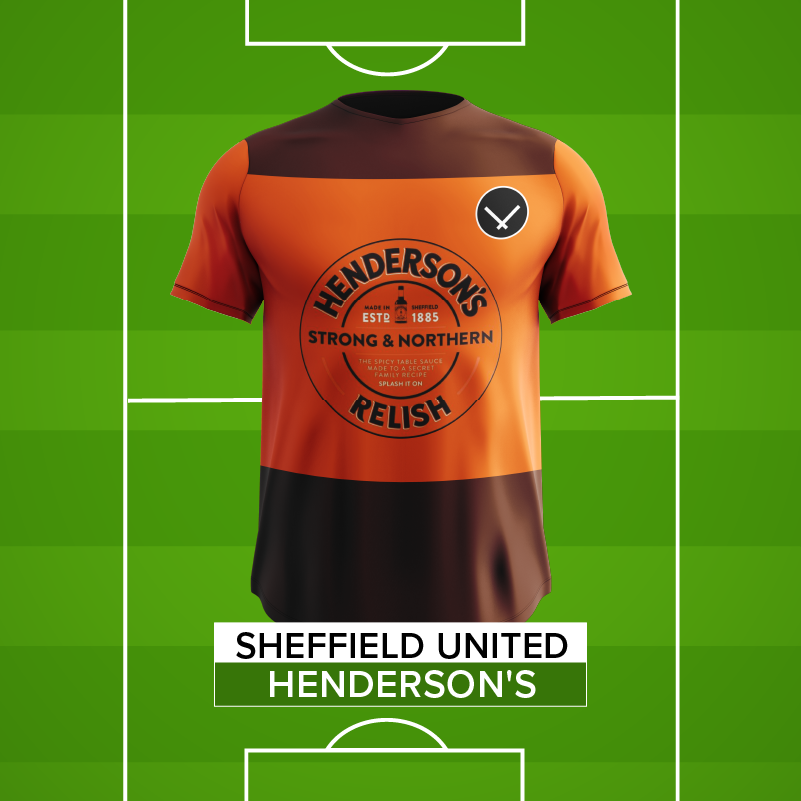 Widely known as "Hendo's" in its home city of Sheffield, Henderson's Relish is a staple of many a Sheffield-made meal. Originally founded on Sheffield's Broad Lane by Henry Henderson in the late 19th century, it is still made today and was in uninterrupted production within half a mile of where the first bottle was filled until a factory move in 2013.
This orange and brown blades kit would make a great away kit for Sheffield, taking a staple of their history across the nation.
Nottingham Forest – HP Sauce
Despite being founded in Nottingham by grocer Frederick Gibson Garton in the late 1800s, HP sauce is named after the Houses of Parliament, hence the illustration on the label. Now a staple of bacon sandwiches, it is now made by Heinz in the Netherlands giving it a worldwide appeal.
This stunning away kit with the beautiful label artwork in the baby blue colour would look brilliant on the pitch for the newly promoted Premier League side.
Rotherham United – KP Nuts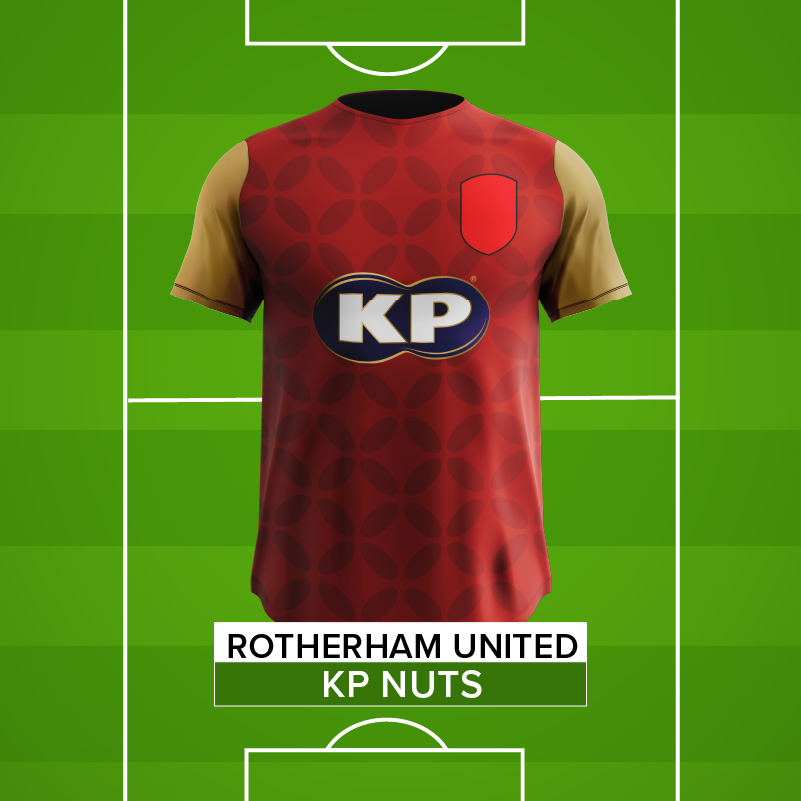 With the company founded as Kenyon and Son in Rotherham in 1853, KP didn't produce their iconic nuts until 1948, beginning with hazelnuts and shifting to their famous peanuts later on. As well to nuts, KP produces a whole range of household snacks including crisps, popcorn, and chocolate dips.
This red and yellow kit covered with cool KP patterns will make Rotherham fans go nuts. 
Aston Villa – Birds Custard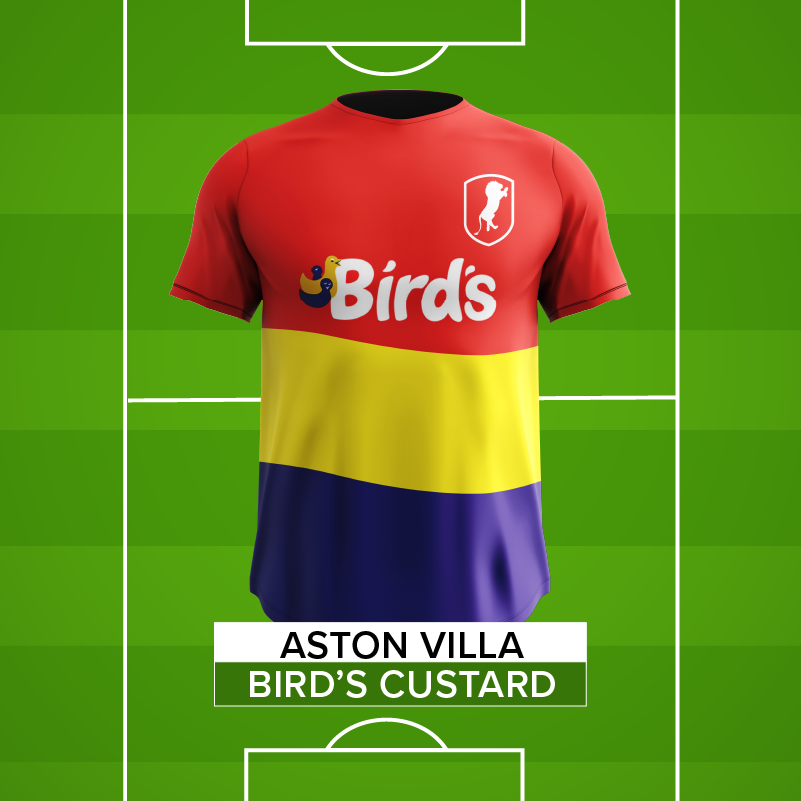 Formulated in Birmingham in 1837 by Alfred Bird, this egg-free custard was developed as Bird's wife was allergic to eggs which was the traditional ingredient used to thicken custard. His custard recipe was so well-received by his dinner guests that he decided to put the recipe into wider production.
Whilst Birmingham City lays claim to Cadbury's, fellow second-city rivals Aston Villa lays claim to Bird's Custard with this beautiful multi-colored kit.
Bolton – Warburtons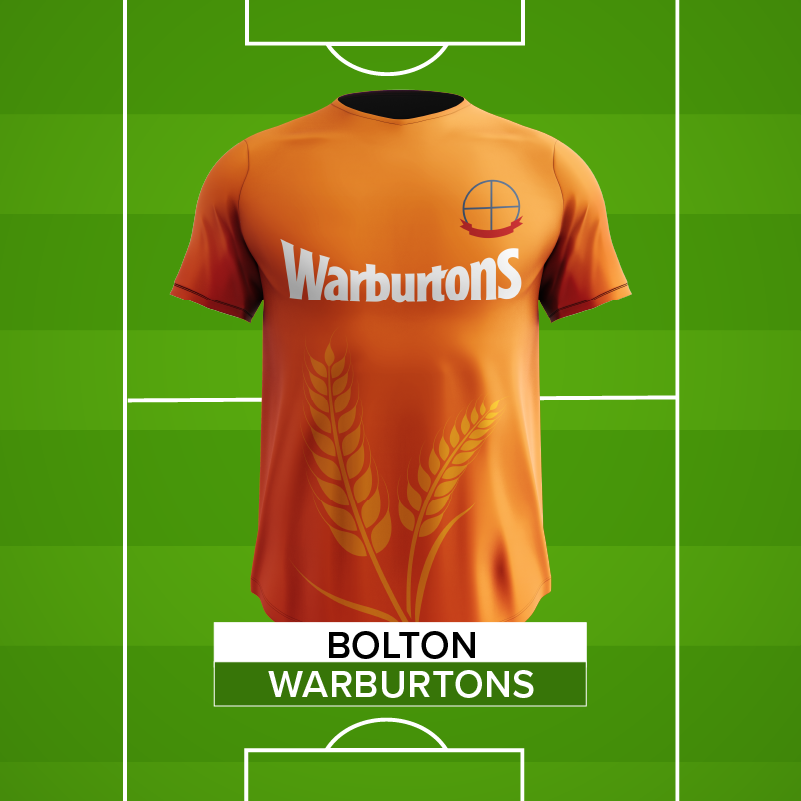 The British baking firm known for its best-selling bread was founded in Bolton by Thomas Warburton in 1876. The bread wasn't heard of much outside of the North-West until the late 1990s when the company launched a huge expansion program making it nationally recognized.
This eye-catching Bolton kit with the illustration of wheat that is Warburton's iconic logo makes for a fantastic kit. During those cold winter evenings at the University of Bolton Stadium, it's sure to keep players and fans alike nice and toasty.
Falkirk – Iron Bru
Falkirk's iconic Irn Bru is now a Scottish national treasure. It was founded in 1901 and is the best-selling soft drink in Scotland, competing with international brands such as Coca-Cola.
This cool Falkirk kit can be worn with pride by players and fans taking pride in their local team that founded one of Scotland's most famous, and instantly recognizable brands.