Another exciting skincare brand has launched in the UAE and is ready to be in the hands of customers passionate about all things beauty and skincare! Introducing Glow Hub, the vegan, cruelty-free, and dermatologically tested skincare brand which has finally graced the UAE with its presence. With its adorable and catchy packaging, the brand is perfect for those searching for products that won't only light up their Instagram feeds, but that work for the skin too. The brand provides every product under the sun including moisturizers, serums, masks, and cleansers, to acids, toners, and SPF products, catering to all skin care types, their needs, and requirements. Designed to prevent and treat what is already there, rather than covering up, Glow Hub's range blends natural actives combined with gentle science, working hard on the skin without damaging it. 
Glow Hub makes lives easier by providing color-coded and well-thought-out skincare routines, that are easy to mix and match according to the skincare type of each customer. This eliminates the stress and overwhelming aspect of skincare routines that can often feel more like an inconvenience rather than a treat. Glow Hub's range keeps skincare interesting and fun, with their product's surprising textures and innovative formats, helping achieve that happy and healthy skin everyone so desires. Whether the skin needs help with rehydration, irritation, or breakouts, Glow Hub's extensive line has you covered!
Top Picks:

Glow Hub Nourish & Hydrate Cleansing Balm – AED 71.35
This super-hydrating balm to oil cleanser melts away all traces of dirt and makeup. With an infusion of antioxidant-rich peach oil and skin quenching coconut oil, along with hyaluronic acid to plump the skin, get ready for clean and dewy skin.   
Glow Hub Scar Slayer – AED 91.20
This brightening, clarifying, and texture smoothing tranexamic acid plus l-ascorbic acid (Vitamin C) serum targets pigmentation, smooth scarring, tackles dark spots, and evens out the skin tone. Skin brightening and glow-giving, Vitamin C protects against skin-stressing free radicals, plus our probiotic blend helps to maintain healthy skin. 
Glow Hub Purify & Brighten Moisture Lotion – AED 66.50
This moisturizer is the perfect balance for the skin; light enough to not clog the pores and enriched with squalane to help hydrate and brighten. With blueberry to balance and black tea to detox and purify, you can enjoy lightweight hydration and moisture whilst lessening the appearance of breakouts.
Glow Hub Purify & Brighten Super Serum – AED 71.35
Ultra-lightweight and skin brightening, this super serum works to balance and clarify, tackling impurities. Enriched with black tea extract to detoxify and balanced with antioxidant-rich blueberry which helps to calm and brighten the complexion.
Glow Hub Nourish & Hydrate Toner Essence – AED 57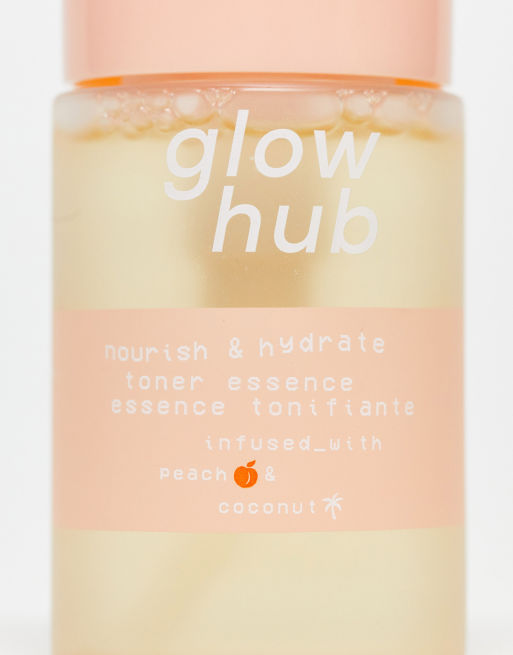 This radiance-boosting, hydrating peach extract contains skin-enhancing refreshing coconut water, plus hyaluronic acid to plump and aloe vera to soften the skin. This super gentle toner essence perfectly preps the skin for everything that follows.
All Glow Hub products are vegan, cruelty-free, and dermatologically tested.  The Glow Hub range is now available from H&M, Watsons, Namshi, Mumzworld, Little Birdy, Beauty Tribe, Beauty Nation, Nessa.com, Waitrose, and Spinneys. For more information about Glow Hub please visit https://www.glowhub.com/ and to keep up with their latest news follow @glowhubbeauty and @littlebirdygroup on Instagram and Facebook.