Say hello to the new generation of protective skincare

London based suncare brand, Saltee has finally landed in the GCC launching exclusively at Powder with an array of products focused solely on protecting, nourishing, and regenerating your skin.
The brand cultivates products that have been carefully formulated in the UK through rigorous research and design while minimizing environmental impact. Expertly curated, Saltee products are vegan, cruelty-free, paraben-free and Oxybenzone-free, making it safer for our oceans and bodies. Saltee ingredients and packaging are responsibly sourced as well as the packaging being 100% recyclable.
"I am thrilled to announce our launch into the GCC market. Saltee is a celebration of sunny lifestyles and the Middle East with 365 days of sunshine is the perfect place for our brand. We are excited to bring Saltee to the region which has a diverse demographic that savvy, and appreciates quality skincare," said Sam Richardson, Cofounder of Saltee.
The brand is committed to provide suncare through a product range that is seen and felt as a luxuriously indulgent part of a self-care and skincare routine without costing the earth. Applying suncare will no longer feel like a responsibility but instead a sumptuous and deluxe experience with absolute confidence in skin protection. Anti-ageing hero ingredients like Venucean counter photo-damage while MelinOil stimulates the skin's natural sun defenses, both working in tandem to prevent photo-ageing. Saltee products offer maximum protection with maximum radiance and regeneration.
"We have cherrypicked a selection of Saltee's bestsellers to get consumers started. Saltee has impressive eco credentials and we are excited to add them to our wide selection of conscious, considered, and independent beauty brands" said Ayat Toufeeq, CEO and Cofounder of Powder.
Saltee has been created with a wider variety of occasions in mind, from the wanderlust traveler to the city slicker and sun worshipper. Saltee products are versatile and easily integrated into a daily skincare routine for optimal protection. Saltee will be exclusively marketed and distributed by Powder, and the initial offering is made up of six products from the brand's bestselling lines including:
Saltee Face Daily Protection Formula SPF 50 – Doubling up as a moisturizer and SPF, this do-it-all wonder replenishes skin with avocado oil, combats hyperpigmentation with Nordic pine bark and boosts skin cell regeneration with neroli oil A lightweight effortless formula that is gentle enough for the most sensitive of skin types, it's adaptable and nourishing with ultimate SPF50 protection against UVA, UVB and infra-red rays.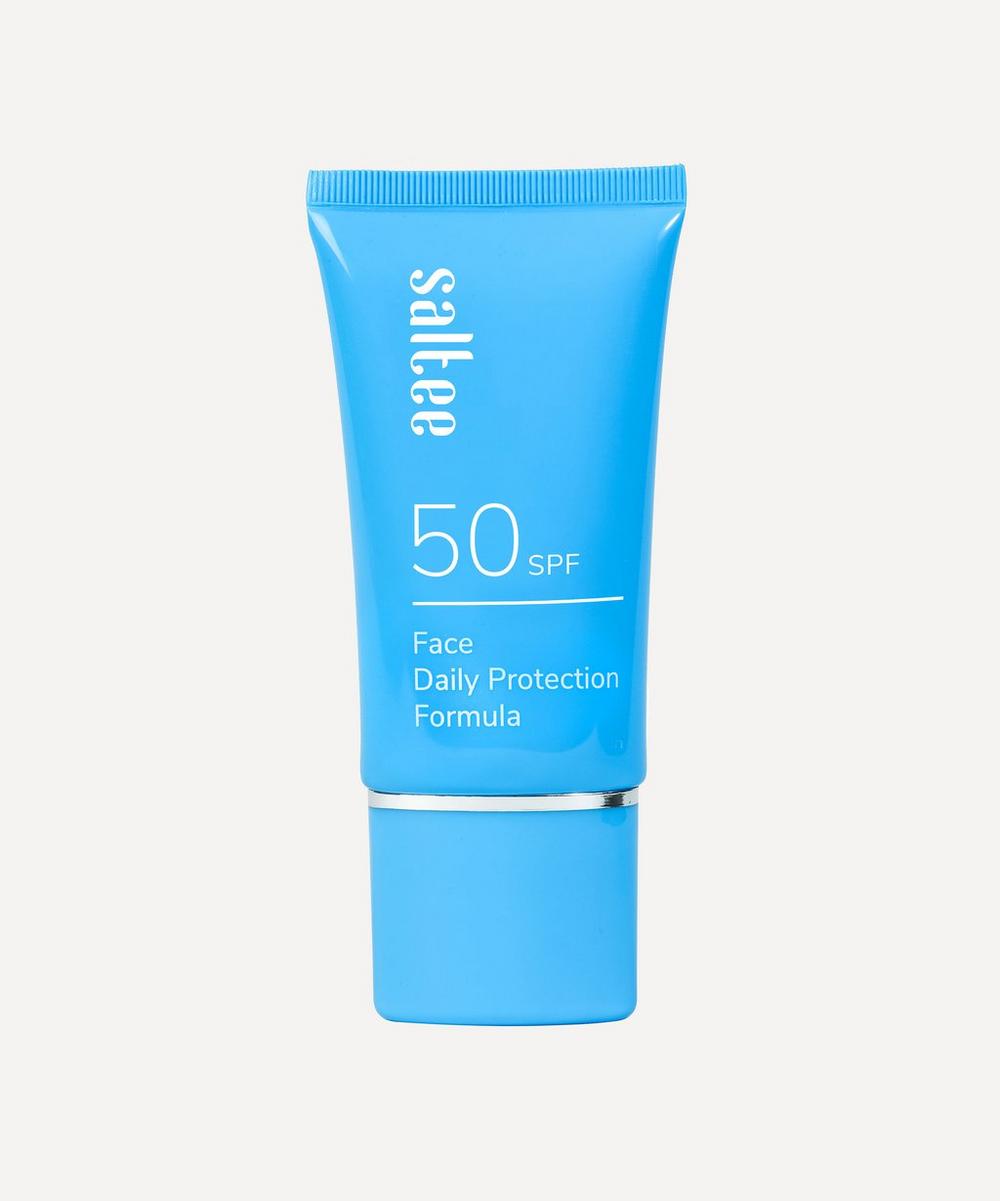 Saltee SPF50 Face Sea & Sun – Brimming with skin-loving extracts, this is a naturally derived sun protection for even the most intense of sun-packed days. This formula has refined the art of 'sun care as skincare' and has multi-functionality of boosting the skin with hydration as well being an after-sun companion to soothe and calm.
Saltee SPF30 Body Sea & Sun Lotion – Award-winning Saltee hydrating SPF30 Body Sea & Sun Lotion is an all-round SPF for every skin type that offers highly efficient UVA/UVB protection, hydration and repair-boosting ingredients all combined with a natural tan accelerator. Enriched with MelinOil to stimulate your body's natural sun defences, it also acts as a preventative action against photo ageing, which is caused by increased sun exposure.
Saltee SPF30 Body Active Sun Lotion – Complete UVA/UVB, this lotion is full of skin-friendly and skin-supporting ingredients while stimulating the skin's natural melanin to give you a consistent even glow.
A multifunctional product, its tan accelerator will enhance your glow and make sure your limbs turn toffee-colored quicker.
Saltee Hydrating Mist – The ultimate skin revitalizer, this indulgent face spritzer supports the skin barrier in protecting against environmental stressors, combats dry patches and targets sensitivities. An anti-ageing powerhouse and potent antioxidant, Vitamin C actions against free radical damage, evens out hyperpigmentation and stimulates the skin's natural collagen synthesis leaving the skin brighter and illuminated.
Saltee Tan Enhance Formula – A triple-action formula that repairs, hydrates, and deepens your tan all with a delicate scent to keep those summer nights alive. Enriched with Melinoil, an oil soluble peptide that mimics those found in the skin, enhances the skin's natural photoprotection, reduces effects of photo ageing and soothes sun-ravaged skin.