Searches for autumn nails have increased by 1300% over the last month…
Summer is almost over, which means autumn is basically here, and with it comes a new wave of nail color trends. While a classic green or burgundy will never go out of style, why not try out one of the season's hottest new trends to give you a style refresh? 
Using Pinterest trends data, trend experts at WeThrift have researched what nail trends we've all been adding to our inspiration boards ahead of autumn, and the results are animal prints, natural pearls, and quirky smiley faces. 
Top 10 Nail Trends For Autumn:
Half Moon Nails – ▲ 334.78%
Glass Nails – ▲ 170.27%
Cow Print – ▲ 133.33%
Pearl Nails – ▲ 112.90%
Navy Blue – ▲ 108.33%
Taupe – ▲ 93.10%
Smiley Nails – ▲ 81.82%
Peach Nails – ▲ 75.44%
Marble Nails – ▲ 58.73%
Zebra Print – ▲ 55.74%
Nick Drewe Trend Expert at Wethrift:
"For the past few years, autumn nail trends have been dominated by deep hues of burgundy, autumnal green tones and shades of brown. But this year, it's all about bold patterns and prints, something you would typically associate with spring and summer.
"It looks like more people are adding bright colors and prints onto their Pinterest inspiration boards, to brighten up their mood as we see the cold weather creep in. 'Smiley face' nails seem to be the favorite of the season, with an 81% increase in searches. The design has become a yearly go-to when the weather heats up, but it looks like this year people are extending the trend throughout autumn, proving that it's an all-time classic look."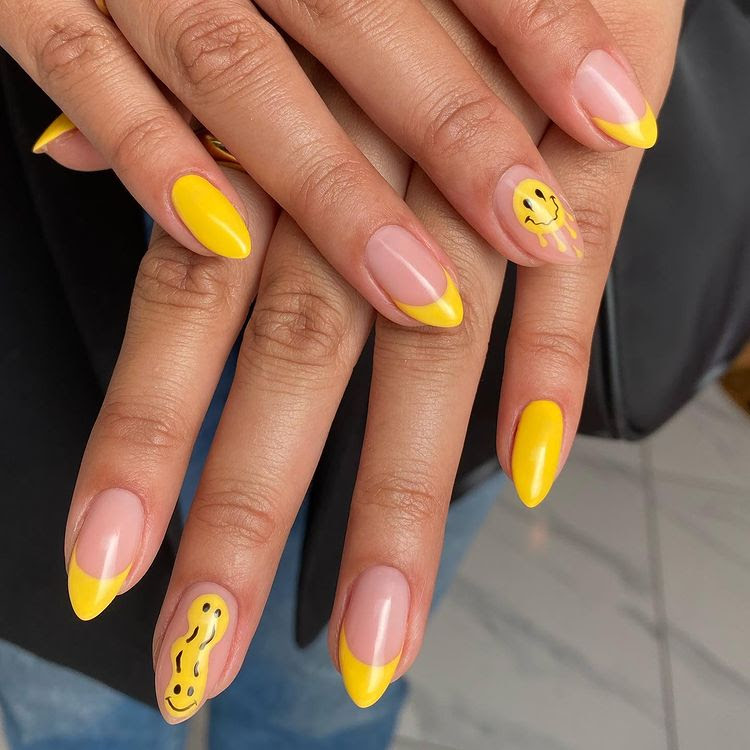 "Animal prints seem to be one of the hottest trends of the season. People are putting a spin on the classic leopard print nail, opting for a cow or zebra print and creating a printed french. For maximalists, we're stepping away from the traditional cow and zebra print colors and going for a more daring color palette, of pinks, blues, purples, and oranges. 
"The half moon nail has become a go-to design over the past few months, and it looks like more people are joining the trend with an increase of 334% in searches. The best thing about the nail design is that it can be incorporated into your individual style, you can go for a bold and daring color or opt for a neutral tone. It offers a twist on the classic French manicure nail – it's simple to do at home, just create a half-moon pattern that meets your nail cuticle.
"Glass nails are back in full force. The technique created by nail artist Eun Kyung is going to be a huge hit this autumn. The nail art involves applying shades of cellophane to the nails, which gives the illusion of shattered glass. You can customize the trend to make it unique to you – for example, try adding some chunky glitter for a fun festival vibe, apply a matt topcoat for a sophisticated look, or play around with different colors to create a rainbow effect."