Time to switch out the heat for natural tools to get your sweetheart look with this round-up from The Hair Addict
With Valentine's Day just around the corner, it's easy to fall back into the routine of heat styling and chemical products. Although it can be a tough choice, one day of pin-straight hair is not worth letting go of all that natural hair progress you've made since the new year.
The Hair Addict, the natural hair platform offering sustainable and non-toxic hair products to help embrace gorgeous natural hair, rounds up the top natural hairstyles that are damage-free and will make you look and feel beautiful this V-Day.
Whether you like your natural locks pinned up or down, there is a style routine for it.
Here is The Hair Addict's best sweetheart looks for you to try at home.
A Romantic Messy Bun
If you're going for the carefree look but want to make it cute enough for date night, go for the romantic messy bun. When done right, you'll pull off the effortlessly beautiful style and turn heads in your direction. To keep your hair in place, and in style, use The Hair Addict's Silk Blend Scarf.
Space Buns
Straight from the Star Wars fandom, release your inner Princess Leia with this cute and easy double bun hairstyle. Parting your hair down the middle, you can choose to put it all up in the classical double bun style or keep them as messy buns with bangs to frame your face for that extra sweet and sultry look.
Free-Flow Natural Bangs
The perfect hairstyle for love day. Letting your natural hair and bangs shine can help frame your face and give it a lovely heart shape. Fluff up your hair and give it some volume with The Hair Addict's Fluff On Pick and finish the look off with your stunning red lipstick-eyeliner combo, and get ready to steal hearts.
Sleek & Flowy Combo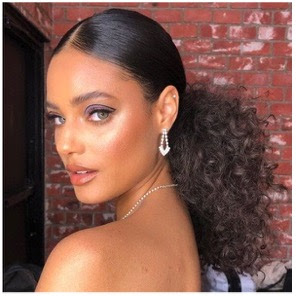 If you're into the clean-girl look, the sleek & flowy combo is the best way to pull your hair back from your face in a spectacular style. To tuck away stray baby hair from the face, sleek them back with The Hair Addict's nourishing Frizz-Off Leave-In Conditioner. This is a go-to style for a sophisticated look.