World-renowned for its luxury haircare and skincare, Miriam Quevedo launches its newest haircare collection, Black Baccara with Fresh Rose Stem Cells this March. The newest addition rounds out the Miriam Quevedo portfolio of advanced anti- aging haircare making it the sixth collection by the haircare master and is available throughout the UAE online with Ounass and instore at Harvey Nichols and Bloomingdales.

Black Baccara with Fresh Rose Stem Cells is unique in that it is formulated to protect both hair and scalp against our lifestyle and environmental aggressors. This plays a significant role in hair and scalp health because any irregularities in the body's biorhythm caused by stress, pollution, diet, bad habits or other negative influences can cause premature aging of both the hair follicle and shaft.

"What many people don't realize is that the effects of our modern lifestyle can wreak havoc on the hair follicle and offset the hair growth cycle. This can cause hair to be weak, thin and lifeless, even resulting in hair loss" – Miriam Quevedo

The collection is designed for all hair types, but is sure to be a cult favorite for those who dream of having long, lustrous locks but can't seem to get their hair to grow beyond a certain point. It will be equally appealing for anyone who has noticed their hair has been falling out more than usual lately or it just seems dull and damaged.

100% Vegan, Black Baccara Haircare brings together the best of nature and science to not only offset biorhythm irregularities but also to stimulate growth, repair damage and protect against aggressors to help anyone achieve the strong, healthy, manageable hair
of their dreams.
Green Packaging
Miriam Quevedo incorporates the clean beauty philosophy into every one of its decision. They have made a decision to reduce the amount of plastic they use, and making sure what they do use comes for either recycled or sustainable sources. This is why the Black Baccara haircare collection is made from I'm GreenTM Polyethylene, a plastic produced from sugarcane. Unlike traditional polyethylene, which comes from fossil fuels, I'm GreenTM Polyethylene is made from a renewable resource and helps reduce greenhouse gas emissions. It is also 100% recyclable.
The Black Baccara Collection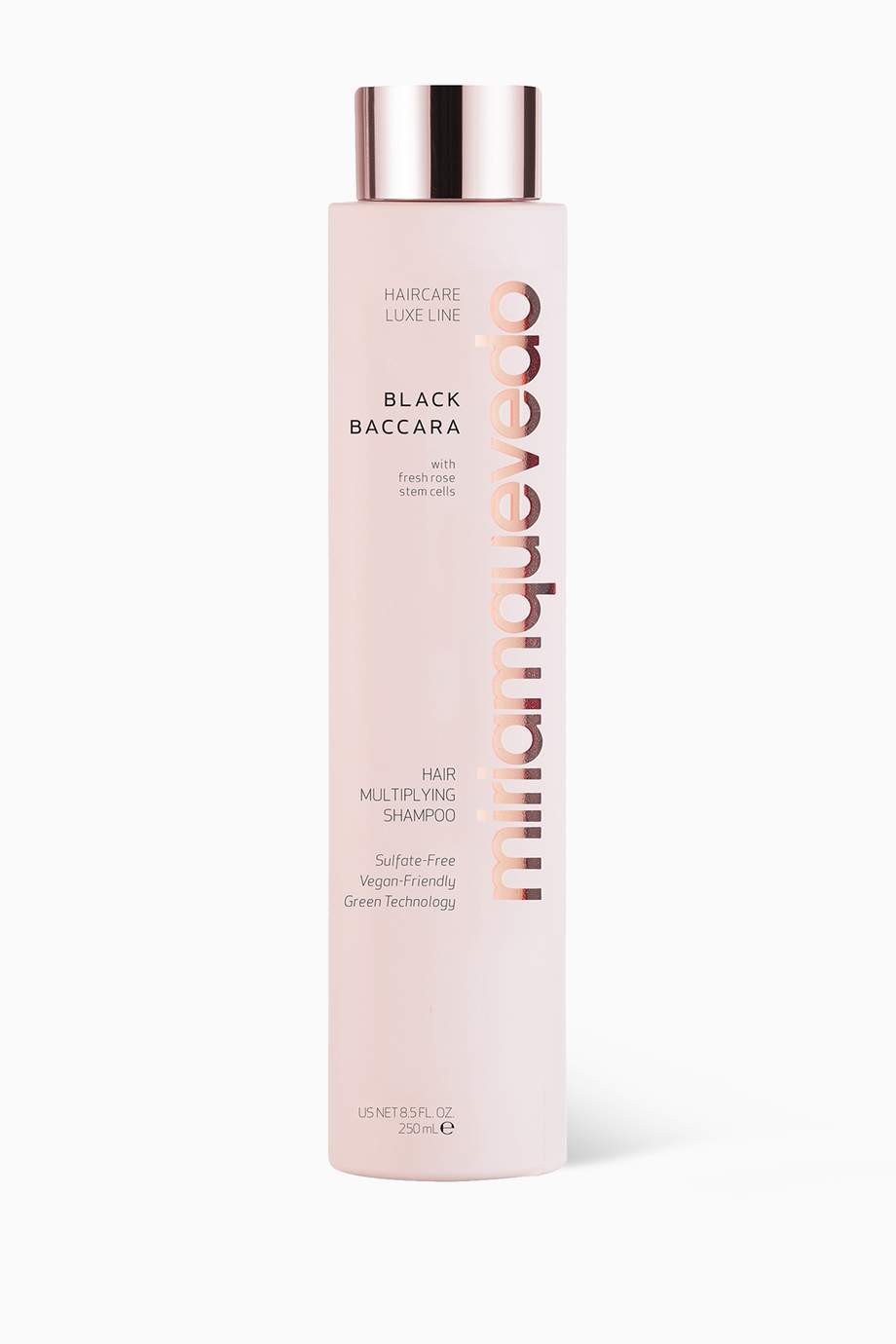 A luxurious and restorative treatment shampoo that boosts hair's growth cycle for stronger, fuller hair. Fortified with our Multi- Bond Strengthener it repairs and creates new bonds to reverse hair fiber damage caused by chemical, thermal, environmental and mechanical aging back to virgin hair. Optimizes Natural Moisturizing Factors (NMF) and balances microflora for superior hydration and improved scalp health. Leaves hair noticeably stronger, thicker and healthier which each use. Our exclusive Black Baccara Rose Youth Concentrate and Fresh Rose Stem Cells prevent hair growth disturbances caused by our environment and lifestyle.
Supercharges hair's growth cycle and keeps hair anchored to the scalp while repairing and creating new bonds to reverse hair fiber damage back to virgin hair. It works from the follicle to the fiber to stimulate growth and delivers superior rejuvenation, strength and hydration for healthier, shinier hair with renewed texture and manageability.
Discover your hair's true strength with this intensely repairing serum that works at the molecular level to repair broken bonds reversing hair fiber damage back to virgin hair. Improves strength and elasticity in even the most damaged hair, in fact, the greater the damage the more noticeable improvement. Forms a cuticle-protection film to defend against thermal damage while also reducing breakage and delivering smoothness, shine, softness and manageability to hair. Fortified with a cocktail of vitamins, amino acids and peptides that protect against free radicals, pollution and UV damage. The potent leave-in serum contains 66% of active ingredients yet the weightless formula leaves hair silky-soft with a brilliant, frizz- free shine.
The new collection and other ranges from Miriam Quevedo are available throughout the UAE online with Ounass and instore at Harvey Nichols and Bloomingdales. Hair treatments available at Orchid salon, Sharjah Ladies Club and So Spa Galleria.